I'll remove common extensions like .md and consider adding an option to disable it.
Dear Channing,
I shall donate $ 111 if you can keep the Listary compatibility with Microsoft Office (Word) 2003 also in the future (i.e. starting with v6.).
Best regards
David
Listary (6.0.5.16) has been crashing a lot recently.
I realized that it happens any time Adobe Acrobat starts an "Open" or "Save" Dialog window.
Sometimes it crashes with a report and sometimes just silently.
I am not sure if that report helps in any way, but in case it does, I am attaching it. (see below)
Also, I am finding that the "History" menu is very inconsistent. Sometimes it works, but other times it shows a history from a long time ago.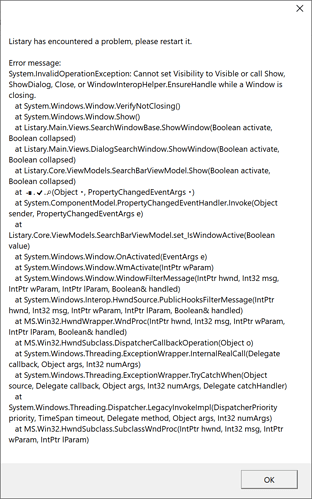 Thanks, but you really should use the money to upgrade Office

I'm working on this crash now.
I have Office 2016, 2019 and 365 as well (for compatibility reasons), but this bloated stuff is not usable for serious text production.
I am planning to use Word 2003 (in my mega-customized, minimal UI version) for the rest of my life!
So please accept my offer


I recently tried out Listary 6 beta to resolve the bug with window switching in Listary 5 on Windows 10 v1903, and the first thing I noticed was that the new popup menu feels gigantic. I know there aren't any appearance settings implemented for the beta yet, but I wanted to ask: will there be an option for a more compact popup menu in the final version 6? I have a fair number of folders in my favorites menu, so the current version 6 popup menu with large fonts and lots of whitespace ends up taking up most of the vertical height my screen, and puts the top folder selections quite far away from the cursor.
I'm switching back to version 5 for the time being, since I'm finding myself missing a few of the nice features from the stable version that aren't yet available in v6, but it looks like the new builds are coming along nicely. As soon as a few more of the core options are implemented, I'll definitely be testing the betas again, and would love it if a compact popup menu similar to v5 was one of the new settings.
The UI will definitely be more customizable with future beta updates.
Issue with opening containing folder using ctrl+return not working in some cases. This is what i did:
started searching for a file starting with "so". After typing so, the search switched to stackoverflow. I hit backspace to go back to normal search, and typed rest of search. Selected the file i wanted and hit ctrl+return. Nothing happened. Other shortcuts like copy (ctrl+c) worked though.
With Directory Opus 12.17 x64 Pro, Control+G does not change the file save window to match the directory open in DO. Neither does switching back and forth between the two windows. I do have Listary 6 beta configured to use DO on the general tab. Listary 5 was working for me, so looking forward to a fix.
Thanks for reporting the issue. I'll check it.
Thanks for reporting the issue. I'll check it.
Hi Channing,
Any updates regarding the crash with Acrobat?
This is really getting frustrating because I use acrobat a lot!
Please let me know
Thanks,
David
I'll try to ship a fix in the next release.
Well that is a bummer, I was eagerly waiting for Listary 6 and I needed the portable version.
I think it's still important to keep the keywords mechanism. There are situations where you want to set a completely different keyword than the actual letters in the target's name. I love the new implementation, with automatic fuzzyness that kicks in when you've selected a target a few times – but I don't see why keywords had to go … one doesn't need to exclude the other, or?
@Channing, any updates yet?
I am having to restart listary 5-10 times daily
Also, today Listary crashed twice with outlook. I was saving a file attachment to my computer and it crashed.
Note, all these crashes happen in the end, after I press OK on the dialog.
Until then, Listary worked fine.
is there any idea for when this actually releases, as well as the documentation for addons, and/or the appearance change? I really liked the dark theme in 5, but I want to use the new stuff of the 6 beta.
is it possible to add feature to remember last launch/search?
You can press the up key.